Cat's Choice Twin Cat Towers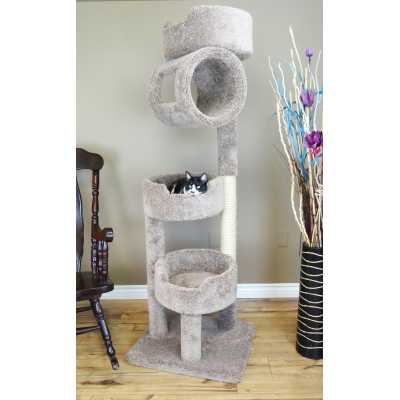 The Premier Twin Towers cat condo is a pinnacle of the exclusive New Cat Condos collection. The exquisite cat tree exclusive stands 72 inches tall and features multiple playing and lounging areas. This cat condo has everything you need to keep your kitty's content and healthy. This Cat condo come to you fully assembled, a ready to use house for cats that's perfect for them to enjoy. The quality cat furniture will provide your cat with many hours of fun, playing, exercise and sleeping. Keep your kitty in great health!
Fully assembled, is handcrafted in the U.S.A., and is ready to use right from the box!
Crafted from solid wood, plush household grade carpet, unoiled sisal rope, and sonic tubes.
Cat house is fully carpeted on the inside for your cat's comfort.
Comes in five available colors: Beige, brown, blue, green, and gray.
Dimensions: 24" W x 20 D x 65" H
Double Thick Base that is 20"X20"
Bottom Cat Bed: 13" (Off The Ground) 16"Round With A 6" Lip
Middle Cat Bed: 29" (Off The Ground) 16"Round With A 6' Lip
Top Cat Bed: 62" (Off The Ground) 16"Round With A 6" Lip
Sisal Rope Scratching Post:39 Inches Long With 29" Of Sisal Rope
Total Height: 68"
Carpet color shades and textures may vary.