Cat's Choice 30 Inch Compact Cat Tree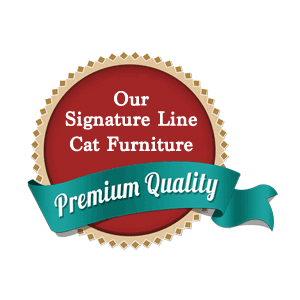 The Cat's Choice 30 Inch Compact Cat Tree is a perfect mid-range cat perch with a lower tiered price. Features a cozy fully carpeted cat tunnel at the base, two sisal rope scratching posts, two carpeted scratching posts, and two staggered u shaped hammock style perches for sleeping or lounging. Made with a solid wood frame and weighted at the bottom for added stability. A compact form factor makes for the perfect play and sleeping area or the perfect window perch. Handcrafted in our USA based workshop.
Carpet color shades and textures may vary.
Fully assembled, is handcrafted in the U.S.A., and is ready to use right from the box!
Crafted from solid wood, plush household grade carpet, unoiled sisal rope, and sonic tubes.
Hand built by our skilled craftsmen, using high quality materials.
Dimensions: 20" W x 20" L x 30" H

Base 20" X 20"

Cat Tunnel Perch: 13"L X 11"W
Sisal Post: 16"H
Carpet Post: 24"H
First Perch: 18"(off the Ground) X 16"L X 11"W
Second Perch: 26" (off the Ground) H X 16"L X 11"W
Weight: 32 lbs.
Signature Cat Furniture Line - Top Quality
Our Signature Cat Furniture line is our highest quality, premiere cat furniture offering. The best cat furniture that you can buy - built to last for years to come.
No Pre-Fab - Built to Your Specifications

The CatsPlay Signature Line of Cat Furniture is completely made to order; you choose the color, size and optional features. Give your cat the gift of a solid, comfortable home to call their own.
Note, carpet colors will vary.
No MDF or Particle Board - Solid Wood - Built to Last
Buy confidently, knowing that our CatsPlay Signature Line Cat furniture contains no MDF or particle board. It is constructed with sturdy, solid wood and will last for many years. Its quality is abundantly greater than much of the common cat furniture on the market today.
Enhance with Optional Features
On many of our CatsPlay Signature Cat Furniture pieces, you will be provided the option to provide enriching features for your cat - such as the additional of sisal rope scratching areas on one or more posts or legs. We use only quality, natural unoiled sisal rope that contains no toxic materials.
Made in the USA by Cat Furniture Experts
Each piece in the CatsPlay Signature Line of Cat Furniture is built by hand by our team of furniture builders here in the USA. Each of our team members has more than 30 years of experience constructing cat furniture, and have built and shipped tens of thousands of cat trees, gyms, condos and scratching posts to happy cats around the world.

Minor Assembly Required
Minor assembly will be required, and full instructions will be provided.
Custom Built Doesn't Mean Long Delays
Your order will leave our warehouse and be on its way to you within a two weeks of the date that you place your order!