CatastrophiCreations Wall-mounted Sisal Cat Pole - Horizontal Runway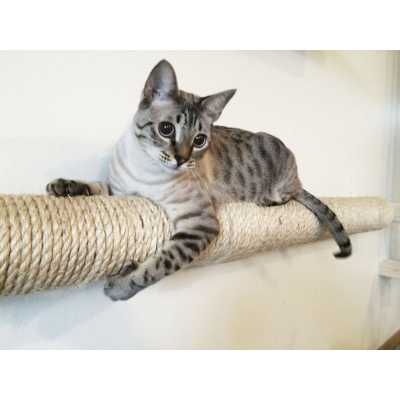 This larger Sisal Pole is mounted between two planks. It's a great way to bridge a gap between two spaces or for your cats to stretch on after a nap.

Up until now, we have just been catering to their climbing and vertical space necessities. We have created a piece that will complete any wall playplace perfectly. They can eat, sleep, scratch and play all within the confines of your walls, all while saving your floor space.
4 Studs
The sisal pole is 46" wide and the total length of the piece, including the two end planks is 50".
Each end platform is 4" wide and 11" away from the wall.
You need to have a stud to stud distance of 48" (3 studs in a row, spaced 16" apart) to be able to mounting this piece. If your studs are spaced differently then that please message us before placing an order and we can make any accomodations needed
*This piece is shipped in two sections and should be glued together before mounting (we include all glue and accesories in the order)
Product Filters
Can be Customized
FREE Shipping
Made in the USA
Optional Sisal Rope