Links Round Cat or Pet Bed in Multiple Sizes & Colors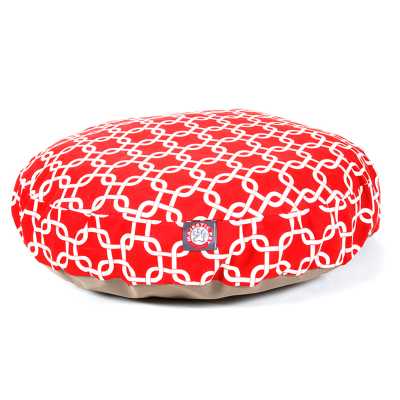 Indoors or outdoors, these high-quality pet beds are just what your pet needs to keep them rested and ready for their next adventure. The Links Round Pet Bed is filled with a generous portion of super plush fiberfill for coldth and unbeatable comfort. The removable zippered slipcovers are woven from durable Outdoor Treated polyester with up to 1000 hours of U.V. protection enabling it to withstand natures elements. Heavy-duty zippers will stand up to years of washing and use. The machine washable slip cover can be tossed in the washer on machine wash cold, then tumble dry on low for easy cleaning.
Features
Polyester cover (1000 hr UV Protection), Stuffed with Super Plush Polyfill, 300/600 Waterproof Denier Base
Small:

30"

(wide) x

30"

(long) x

4"

(high)
Medium:

36"

(wide) x

36"

(long) x

5"

(high)
Large:

42"

(wide) x

42"

(long) x

5"

(high)
Perfect for lounging on or simply as a great place for your pet to sleep through the night
Great for any spoiled pet.
Comfort and durability beyond compare!
Pet beds will add style and comfort to any room!
Perfect for any room including home bed rooms, family and living rooms!
Our products have comfort and durability beyond compare.
Our premium products are proudly made in the USA.
Machine-washable slipcovers zip off for cleaning on many of our products.
Our inserts are eco-friendly and filled with recycled Polyester Fiber-fill.
Product Filters
FREE Shipping