CatastrophiCreations Deluxe Cat Wall Play Place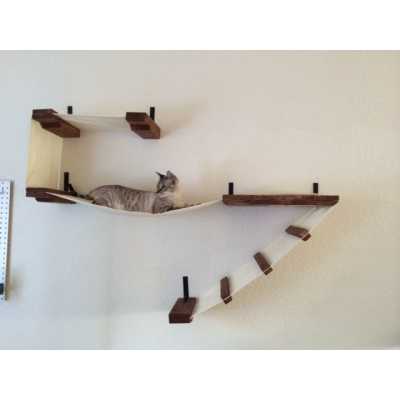 These shelves are made up of 4, 11" wooden planks and one 18"x 11" shelf with hole cut into it to access it from underneath. It's hole is an extra large hole and lined with sisal. Attaching everything is a stiff bottomweight fabric.

Each post is very strong and reinforced with three layers of board and attach to the wall with large 4" brackets. Each raceway is built to be mounted between 16" studs (if yours are spaced differently, leave a message in the notes when you place your order and we will build it accordingly).

You need 4 studs in a row for this. It is spaced out for 16" studs.

Pictured is a our english chestnut stained wood, with off white fabric
How much weight do the shelves hold?
We haven't actually maxed out the weight on our shelves yet, so it's hard to give an exact number. We have tested them at 54lbs, and they didn't budge. We use corner braces for brackets that are attached from the top, so that when weight is applied it pushes the shelf tight against the wall. That creates a very sturdy hold. They do need to have at least one of the brackets mounted into a stud. If you don't have studs avalible, then there is other possiblities like heavy duty dry wall anchors. Home depot has packs of 6 fthat are rated to each hold 65lbs for under $5.

All of our shelves only have one bracket mounted in studs. We've applied 45lbs on ours and they were fine. If I we're going to guess I would say about 50-55lbs would be pushing it.
What if I have no studs to install the shelves. Can they be installed into drywall or plaster?
If you don't have studs available, there are other possibilities, like heavy duty drywall anchors. Home depot has packs of six that are rated to each hold 65 lbs. for under five dollars.

We've never tried these with our raceways, or fabric play place. We're not sure that they would hold tight enough. They get pulled from the side each time a cat jumps on, so we really suggest mounting those into studs.

Do the shelves come with mounting equipment?
All of our pieces come with screws, light duty drywall anchors and brackets attached. Except for our cat bridge. Because it typically sits at a doorway, we don't know where the studs are, so we include brackets but do not attach them.

What do I need to mount the shelves?
You need a screw driver, a drill, and a stud finder.

Also a level, if you want them perfectly straight.
Product Filters
Can be Customized
FREE Shipping
Made in the USA