CatastrophiCreations Vertical wall-mounted Sisal Cat Pole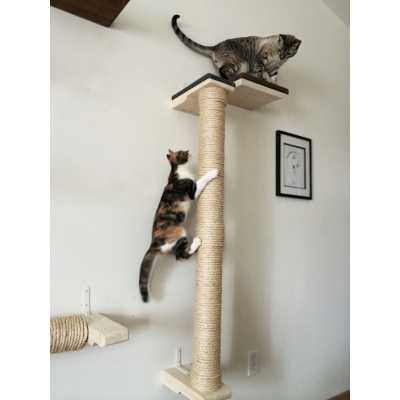 This is a Sisal Pole that is mounted between two smaller shelves. The top shelf has multiple layers of burlap, so that cats can climb off of the pole with ease. It's a great way for your cats to reach higher shelves or just to stretch on after a long nap.

Lylah, our newest addition, is obsessed with sisal and flew right to the wall when we put the piece up, at times guarding the top.

You need to have a stud where the piece is mounted. The pole is 4" wide and it has solid wood shelves on each end for mounting the pole. The top an bottom pieces of wood are 11" deep and 5.5" wide. The shelves pictured around it are not included

Up until now, we have just been catering to their climbing and vertical space necessities. We have created a piece that will complete any wall playplace perfectly. They can eat, sleep, scratch and play all within the confines of your walls, all while saving your floor space.
*This piece is shipped in two sections and should be glued together before mounting (we include all glue and accesories in the order)
Choose from a variety of heights.
NOTE: The Shelf at the top right side of the Vertical Pole DOES NOT come with this item.
Product Filters
Can be Customized
FREE Shipping
Made in the USA
Optional Sisal Rope