Two Bowl Long Fish-Shaped Mosaic Tile Cat Feeder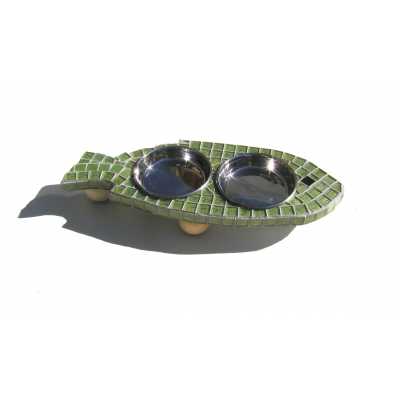 This elegant mosaic tile feeder is perfect for your cat. This would make a wonderful gift to anyone who loves their pet.

Each diner will be slightly different than the next as that is the nature of mosaics.

An elevated diner is beneficial by allowing your pet to maintain a healthier posture while eating and drinking, stress on neck, back and legs is reduced. By elevating food and water bowls, digestion is improved and the risk of choking is minimized.

Why hide your pet's diner when guests come to visit? There is no need with this beautiful piece. Each is a piece of art to be displayed and enjoyed.

We suggest wiping the surface of your diner weekly to maintain a clean surface. A soft cloth such as a Total-Reach microfiber dust and polish cloth is a must for every Posh Diner. Remove bowls weekly to clean the surface throughly.
Dimensions: 19"L x 7" W x your chosen height
Materials: Clear green glass tiles, adhesive, paint, wood, screws, SS bowls, epoxy grout