Five Tier Picasso MF-77 Cat Gym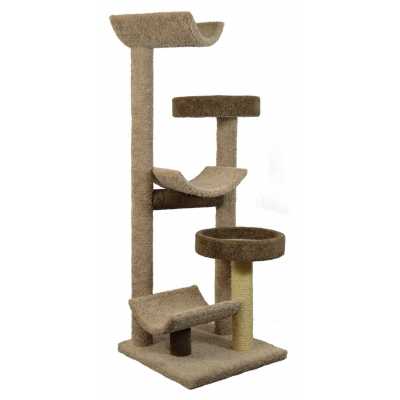 A five tier scratching post funiture on a 24" base with a cradle on top a 60" carpeted pole, a ring with an enclosure on top a 47" carpeted pole, a cradle on top of a carpeted crossarm, a ring with an enclosure on top a 24" sisal pole and a cradle on top a 6" carpeted pole. Unit is not one color.
(3) cradle 16.5" wide, 16" long, 3" deep,
(2) rings 16.5" diamter, 3" deep
To speed up the process of building your unit, please select a first and second choice for carpet colors. Remember, the shades of carpet may vary from what is shown here for a variety of reasons. We will do our best to match the carpet you get with the colors you choose.
If you want a SOLID COLOR unit, please choose the same color for all selections!
Please Note: The shipping cost covers delivery to front curb of your home. If you would like it placed somewhere else, (garage, back porch, in your homeÖ),or the use of a lift gate or other services, there is an additional fee for this. If you would like to use any of these services please email Customer Service at meow@catsplay.com BEFORE you place your order to make arrangements for this and pay the additional $250 charge. It is very rare for damages to occur. However if you receive a damaged box(es), please be sure to note it on the paperwork that you sign for the driver.
Product Filters
Can be Customized
Made in the USA