Long and Low Cat Litter Box Cabinet with Odor Absorbing Light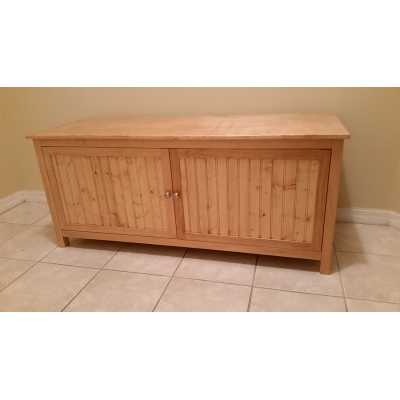 This beautiful custom made cabinet is proudly made in the USA. Wood Cat Furniture not only hides your cat box but destroys all odors.
Large cat cabinet fits the LitterMaid and other automatic litter boxes.
Low Step makes it easy for older or larger cats to get in and out.
This cabinet comes as a flat pack due to its size. (2 doors with hinges attached, 2 sides, top, base and back) NO SMALL PARTS. Don"t confuse our quality wood furniture with cheap MDF flat packs.
Exterior: 52"L x 20"W x 23"H
Interior: 48"L x 18.5"W x 18.5"H
Choose your desired finish from our large color selection, and your desired placement for openings - left, right or both.
Opening: 8x10" or choose cat silhouette shape
Opening is determined as you are looking at the front of the box.

Patent pending ODOR free furniture. Made in America by cat owners for cat owners. This product eliminates odors, it has no odor of its own, no more masking odors with a fragrance. Now you can have your litter box where you want it, no odor or ugly box.
The coating is 100% safe for pets and children. The light wave we use is 100% safe unlike UV light and is cool to the touch. This furniture comes ready to use made of wood, not MDF that you have to assemble yourself.
Our odor system has the same killing power as carbon except our coating has over 60 times the surface area, plus our product works as a catalyst meaning it never stops working, unlike carbon which absorbs odors.
How does the Technology work?
Technology destroys odors at a molecular level.
The technology has NO odor of its own. It does not mask odors with a scent, it destroys them.
Technology destroys at the same rate as carbon but our products have a surface area at least 30 times larger than most cat tray carbon filters.
Our blue light spectrum generates no heat and is safe for pets and children.
Don"t spend another dollar on carbon filters or plugin air fresheners.
Product Filters
Can be Customized