Kittywalk Outdoor Cat Run (Lawn Version)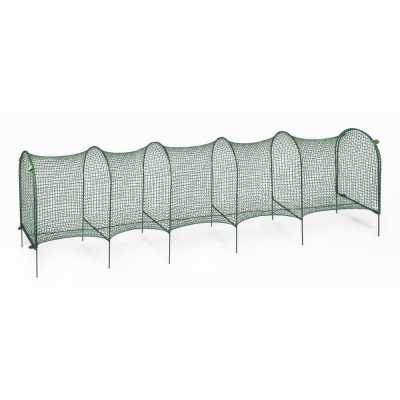 Portable outdoor enclosure
Sets up in seconds
Handy travel and storage bag included
Expands to 10' long
Will not harm your grass
Works with most pet doors
Multiple Kittywalks can join together
Now your cat can enjoy the sights and sounds of the outdoors with none of the dangers! This ripstop nylon mesh tube lets your kitty get fresh air, watch birds, or enjoy the sunshine. Weather-resistant metal arches set up in seconds and collapse into a mere 5" thick! Close off both ends or attach one end to your house for use with any pet door. Attach additional Kittywalks to lengthen tube. Use freestanding anywhere in your yard, or with any cat door. Kittywalk is 10ft. long and collapses to 19" x 31" x 5". Also includes ultra-sturdy nylon Travel Bag with zippers and handles.

If your indoor cat is an outdoor cat at heart, Kittywalk is the perfect environment for your cat to feel safe, outdoors! Each season Kittywalk allows your cat a birds-eye view of the great outdoors in a safe, roomy and secure environment. Ends can be hinged together to attach additional Kittywalks providing your cat with more area in which to romp-without threat of escape.
Kittywalk has a revolutionary design that is convenient for boaters, campers and RV enthusiasts. Easy to deploy; even a child can erect it or take it down in minutes. When stowed away, a ten-foot long Kittywalk compacts to a size less than a collapsible beach chair.
Kittywalk is sturdy, lightweight and portable in design, and does not harm grass. It can easily be moved from place to place when it comes time to mowing the lawn or when a change of scenery is desired.
With Kittywalk your cat can safely enjoy the great outdoors!
Benefits:


Cat can relax in the fresh air
Eat grass
Chase bugs
Watch birds
Exercise
Enjoy the sunshine
How it's made:
Weather resistant Kittywalk is made of sturdy industrial strength fishnet, weaved to a metal hoop shaped wicket that easily stakes firmly into the ground. The rip stop netting and durable metal wickets will withstand many pounds of pressure without breaking or bending. Kittywalk will endure rain or shine--from summer to winter--without rust, rot or mildew. Easily attaches to indoor/outdoor pet doors so your cat can go outside at will, without the risk of unwanted visitors entering your home.

Optional Outdoor Protective Cover
Made from sturdy oxford fabric with paracord ties at the bottom, these covers will extend the life of your Kittywalk outdoor products, allow you to keep them outdoors all year round, and prevent any unwanted animals from getting in.