CatastrophiCreations Floating Sisal Cat Wall Post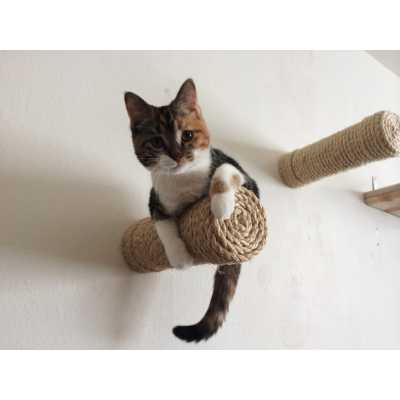 These are floating sisal posts, that can be used as steps. Each post is sold seperately. These posts are extremely easy to mount and come with everything you need to mount them into the wall.

We have 3 cats, each with a different size and shape. Each one of them is able to use these steps with no problem. Ickle is our hefty 16lb boy and has surprised us most with his agility on these pieces, Heisenberg is our lanky 12lb active boy who can conquer anything and Lylah is our dainty little 4 month old baby, who is the only one able to fully lounge on these posts. They can all jump up from below and pull themselves onto it.

When screwed into a stud, these posts are very strong and have been tested to hold 50+ pounds (they didn't budge).

Each post is 4" wide, 11" long and lined completely with sisal.
Product Filters
Can be Customized
FREE Shipping
Made in the USA
Optional Sisal Rope