Cuddle Cat Corner Mat- Cat Bed with Catnip - Green Cat Breeds Pattern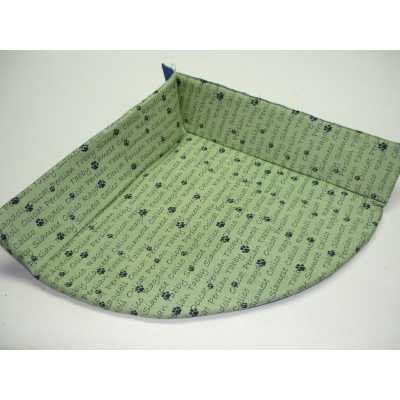 This unique cat bed tucks into the corner of a couch or favorite napping chair for your cat's ultimate cuddly comfort. The Cuddle Corner Cat Mat is lined with fluffy polyester batting and coordinating cotton backing. Two sides have stiffer stand-up edges that keeps the furniture from getting hairy. And we all know about that! Unique curved shape fits your cat; after all cats curl up and sleep round, not square. Corner tab tucks into chair or couch corner to keep it in place.
Sides measure 21".
A touch of catnip inside entices your cat into blissful sleep.

Pattern is olive with breeds and footprints. Reverse side is navy. Cotton fabric is completely machine wash and dry.