CatastrophiCreations Cat Sky Track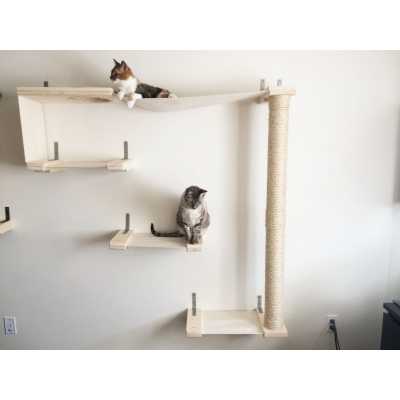 The Cat Sky Track is the perfect full setup. It gives cats a vertical sisal pole to run up, with a long hammock and a shelf with a sisal-lined hole at the top to get back down. There are three shorter hammocks for steps or lounging areas on the way down. The top of the sisal pole is covered in burlap for easy access to the top of the structure. The Sky Track is a large, complete set that is both functional and fun!

* Please note: This is our most difficult piece we've done as far as mounting. You are deffinitley going to need an extra person in order to mount it. While mounting the shelves, someone needs to be there to hold the sisal pole. Please don't attempt to mount by yourself.

Dimensions from right top to bottom: 4-foot Sisal Pole, attached to 32" hammock and 18" Escape Hatch shelf - 14" Vertical fabric wall - 16" Hammock - 16" Detached hammock - 16" Hammock attached to bottom of Sisal Pole

Dimensions:
Total Width - 54"
Total Height - 4 feet
Depth - 11"
Studs needed - 4 studs in a row, spaced at 16"
The fabric pieces are made to be mounted into studs. We've heard really good things from customers about using toggle bolts in drywall, but havent played around with them yet. So we're still recomending people to mount the brackets into studs.

*Please note that this piece is intended for having four studs in a row, spaced out at 16" from center to center. 16" studs are what most homes in the US are build with, but there are different spacings. If your studs are spaced differently please message us before ordering and we can make a custom piece to fit your stud distances for an extra fee.

Also please keep in mind that our brackets do need to be mounted as they are in the photos (from the top of the shelves) to remain very sturdy. All of our pieces except for some of the bridges come with all brackets attached unless you would like us to leave them off.
Product Filters
Can be Customized
FREE Shipping
Made in the USA