Cat's Choice Designer Cat Pagoda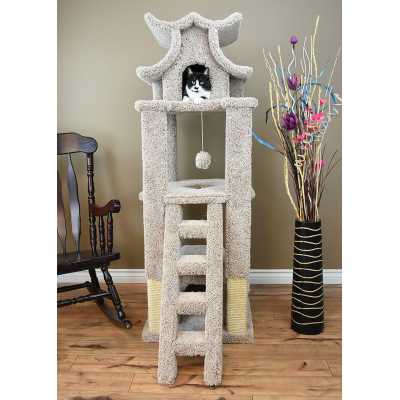 Our Premier Designer Cat Pagoda Tree gives your feline friends a very special place to play and relax! This amazing piece of cat furniture contains two fully carpeted cat houses, four scratching posts to promote healthy scratching behavior and healthy nails, and several cat perches for your cat to stretch out and lounge in. This is an amazing cat tower to own for a multi-cat household, as it will keep your kitty busy for hours! Comes in five colors to suit any decor. This piece of cat furniture is proudly made in the USA!
4-5 minutes easy assembly, and is handcrafted in the U.S.A.
Crafted from solid wood, plush household grade carpet, unoiled sisal rope, and sonic tubes.
Cat house is fully carpeted for your cat's comfort
Comes in five available colors: Beige, brown, blue, green, and gray.
Dimensions: 24" W x 24" L x 67" H
Base 24" X 24"
Bottom house 18" wide x 13 deep x 12" tall
First cat perch 31" off the ground and 24" x 24" with a diamond 6" x 6" cutout.
Top cat house site 49" off the ground 12 W x 14 D x 14" T
Top house has a 6"W X 6"D door
Four 46"" scratching post Two have 12" of sisal Rope
Cat play toy included
Over seven different sitting areas
Carpet color shades and textures may vary.